Home

Our place in Moshav Sharona is perfect for individual tourists, families and groups from Israel and around the world.
Your vacation with us will be relaxing, fun, and most comfortable and this is why people keep coming back again and again ! You are most welcome to read the
recommendations
our guests have written.
Karaso B&B offers
5 vacation apartments (zimmers)
surrounded by our ecological garden, olive grove, fruit trees and pastoral village views.
The apartments are located across the yard from our Family house.
In the garden you can enjoy sitting areas and Hammocks.

In the yard - a roofed area for gathering, dining, praying, playing and other social activities (the Activities Tent). There's tennis/ping pong table, a taboon for making pita bread and - at wintertime - this area is heated by a wood fireplace.

Also in the yard - a barbecue area and a mini basketball court.
At summertime, the village's swimming pool is available to you - free of charge.
Many other
tourist attractions and facilities
are available.
---
Our Country-Style Israeli Breakfast is Free of Charge and Served in Your Room, in the garden. Several familie/group can have it in the Activities Tent:
Our breakfast brings the taste of the countryside with daily freshly bakes bread &
home-made
jams
, special local cheeses, la'ba'neh, fresh vegetables, organic olive oil (from our grove), olives. herbal tea from our gardena and more.
---
The Family Apartments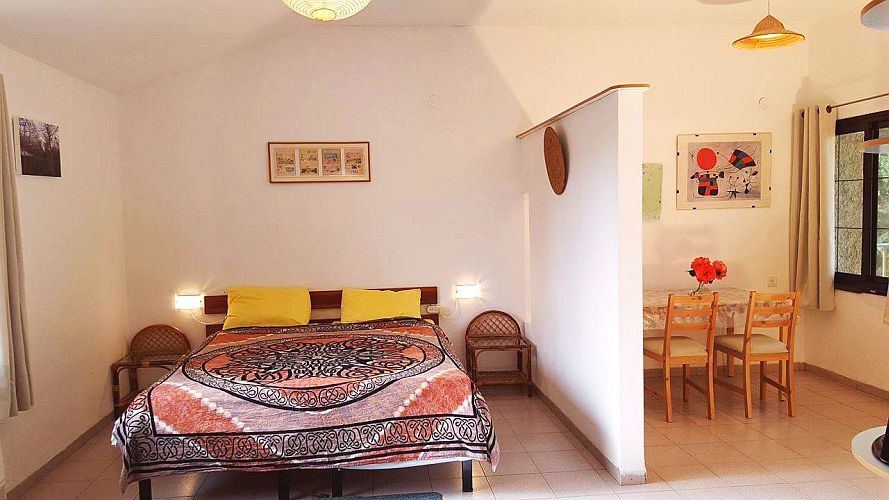 Each apartment (zimmer) can accommodate up to 5 persons (in one large bedroom).

One larger apartment can accomodate up to 8 persons (in 3 bedrooms). This apartment is accessed without any stairs so it's suitable for DISABLED persons.

Each apartment includes a Kitchenete, Dinning Area with table and chairs, Bathroom (with toilet and shower) and Balcony (with table and chairs) or Patio.

The apartments are equipped for Cooking & Dining facilities: refrigerator (free coffee, tea, sugar and fresh milk), electric kettle, gas stove, microwave, kitchen utensils, A/C, Satellite TV, radio, free wireless internet access.

A free hot/cold high quality water bar is located in the yard.
Karaso B&B - for Groups

The maximum capacity of our B&B is 28 guests - in 5 apartments.

For more information, please view

the Hosting Groups

page.




---

For information and tips about tourism in Israel, you are welcome to contact us by
mail (info@karaso.co.il)

or

Facebook.